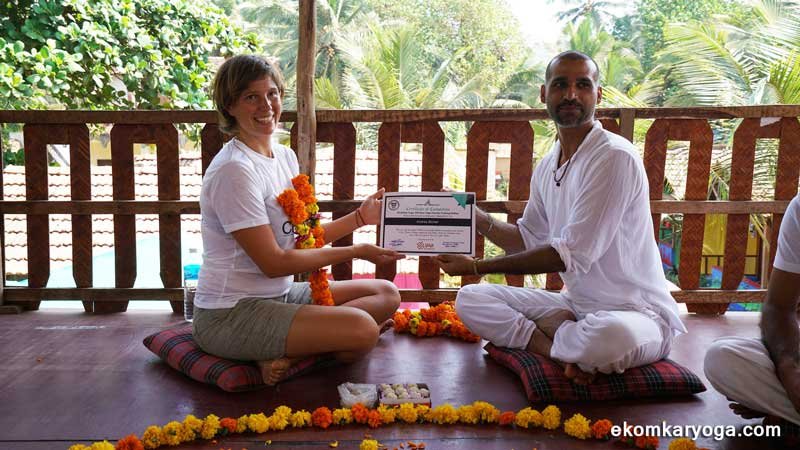 Image: Andrea Bichler receiving 200 Hour Yoga TTC certificate from Yoga course director Aman
Andrea Bichler is from Austria who took 200 hour Yoga TTC at Ek Omkar Yoga Center in December 2016. She joined the TTC with her boyfriend Christian. Before she joined us she has been practicing hatha-yoga for several years, but not on a regular base. Considering herself a beginner, she came with the motive to learn how to teach yoga properly to others and create an ambiance where people feel good with themselves and can improve.
She also mentioned that the another reason is that she really feel it´s time to get more yoga into my every-day life to become a more balanced person.
After completing 200 hour teacher training course at Ek Omkar Yoga Center she shared the following review.
I did my 200 hours Teacher-Training-Course at Ek Omkar Yoga Center in December 2016 and would really love to recommend this school to any person interested in learning more about his body, breath and mind!
What I liked most:
1. Small efficient group-sizes: Less than 10 students – that´s awesome! And hard to find anywhere else.
2. Teaching is based on friendship and trust.
3. Excellent, helpful, knowledgable and patient teachers with years of teaching experience!
4. Yoga Alliance certificated. 5. Based on Hata Yoga you will also get a deep understanding for Sivananda- and Ashtanga Yoga.
6. Perfect guideline: course includes Yoga postures, breathing techniques, meditation, philosophy and anatomy. The first 2 weeks you work on improving yourself, the last 2 weeks you focus on teaching techniques and -practice.
7. The place is safe and quiet, 1min to the beach. Very clean and nice accommodation in huts.
8. Food is cooked fresh 3 times a day and is really- I mean really awesome!
9. Teachers are there after classes as well – it is a very home-feeling atmosphere."