Aman Walia
Founder & Yoga Teacher
Aman Mandeep Walia, founder and lead teacher at Ek Omkar Yoga School. His physical awareness started in his teenage years as he intensely practiced sports, martial arts and attended the gym. The physical level was there, but something was missing. So he went to work and live in the Osho commune in Pune at twenty years old and got introduced to Osho's meditations. It was a life-changing time for him and was the first step into self-awareness. He then went to Dharamsala where he took hatha yoga classes, finding them a great addition to his physical and meditation activities and that it was the safest and smoothest way to practice both.
After several years of attending hatha yoga asana classes and doing personal practice, he felt it was time for him to deepen his knowledge and went to do his first 200-hour teacher training course at Bihar yoga ashram in North East India. Bihar school of yoga is a renowned traditional ashram where people come from all over to have an authentic understanding and teaching of what yoga is as a whole lifestyle. This is where Aman got to see and practice the yogic lifestyle on a daily basis (gurukul lifestyle) and realized it was the way for him to reach a higher level of spirituality.
After leaving the ashram, he continued applying this lifestyle and asana practice until he was ready for the next step in his yoga journey. His longing for more made him go to the Himalayas to complete a second 200-hour teacher training course at Sivananda Vedanta ashram. He started to teach drop-in classes and after a few years decided to create his own yoga school Ek Omkar Yoga to teach others how to spread yoga as far as possible.
He spent some time in Mysore toexpand his practice and understanding of ashtanga vinyasa yoga.
Aman's view of yoga is more than just about the asana practice focusing mostly on the physical level, it is a complete way of living. Aman wishes to share the traditional Indian yoga culture and way of living. Pranayama and meditation are main focused to help calm the mind and body. He wants to open his students to a new dimension in their life, bringing awareness, respect, peace of mind and discipline in a joyful way. He is a friendly, warm-hearted and humble man, keen to share his experience with whoever is truly interested in yoga.
He has traveled to India and to Europe and likes to talk about his travel stories with his students who often become his friends.
---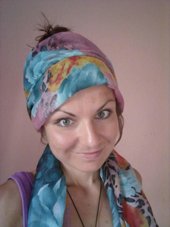 Patricia
Yoga Teacher
Patricia`s Yoga journey started in early youth has grown out of deep interest in natural ways of healing. Being brought up close to nature and a harmonious life she was greatly supported and inspired by a family of naturopaths, healers as well as medical practitioners. Undertaken studies on eastern philosophy, psychology, and religions, Traditional Chinese medicine, Ayurveda, the practice of meditation and Chinese Martial Arts helped to deepen insight and brought clarity to the understanding body and mind relationship. Further practice of Yoga, Reiki, Shiatsu, Thai Massage along with accomplishing academic master degree in physiotherapy got her well established in a scientific approach to holistic treatments and develop her unique, alignment-based teaching style balanced with a proper dose of deepest core touching guidance in meditation.
Traveled and worked in different countries across Europe and Asia she came to the roots of Yoga in India and became multi-style Yoga Teacher.
Nowadays Patricia is bringing her knowledge and experience in Anatomy and physiology classes, meditation as well as Hatha, Vinyasa, Yin and Therapeutic Yoga Asana practice.
Her work is filled with faith, love, and enthusiasm with a reasonable balance between spiritual and scientific approach.
---
---
Prashant Kumar
Prashant left working in the IT industry in 2012, in pursuit of something more fulfilling, he had been involved in various activities from martial arts to mountaineering, and it was this love of health and exercise that lead him to yoga. To start with he struggled with some of the physical aspects of the practice, but using his knowledge of anatomy and physics to better understand his own body, he developed specific techniques to help other people understand their own blockages.
Though Prashant started out very much as a physical practitioner he has naturally followed the path into the other elements of Yoga. He has dedicated the last six years full time to his practice of Asana as well as Pranayama, Mantra chanting, Meditation and Kriyas (cleansing techniques).
He is a Certified Instructor, with Yoga Alliance and Yoga Alliance International. With these qualifications along with years of intense research, self study, he brings his unique approach to teaching classes with a clear scientific understanding of yoga in a fun easy to remember way.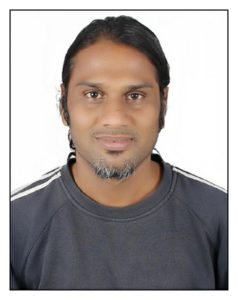 Naren
Yoga Teacher
After engineering study and brief association with companies, I started to travel across the country with the objective of experiencing or many times totally unconscious of why I was traveling. Nature and varying landscapes were enough to make me feel contentment. I had interests in the modern western philosophy and the practice of the ways of Buddha,
In one of my travels, on a full moon night, I sat on the hills of Tiruvannamalai and totally lost track of the passage of time until the break of dawn the next morning.
I decided to take up writing and started to work on a book. In the process, I was largely drawn to The Vedas, Upanishads, and many ancient scriptures which along, with the teachings of Ramana Maharishi and encounters with simple men and women with remarkable experiences and staying close, in as much harmony as possible, with Nature provided the source.
---
Yogi Chandrakant
Yoga Teacher
Dr. Chandrakant is a born yogi; his upbringing is very spiritual itself as he was raised near Saptrishi Ashram where Rishis (hindu monks) have been doing sadhna (meditation) since vedic times.
As a family ritual, Yogi Chandrakant was introduced to the world of spirituality by the age of 3. Soon he was skilled on Vedic Mantra & Tantra Yog by his father (who later turned out to be his guru) named, Shri SitaRaghav Sharan Ji Maharaj.
By the age of 8, he was enrolled in highly -renowned Sanskrit School in Saharanpur U.P. where he was given complete knowledge on Sanskrit as a language, Yog and Astrology for 12 years. By the age of 18, after mastering from the school.
Dr. ChandraKant decided to explore India and understand more, the depth and meaning of spiritual science, after exploring different parts of the nation Yogi Chandrakant decided to uphold his ancient tradition of Sanskrit and Astrology. As his father was his Guru-figure and a source of inspiration he also started exercising mysterious practices of Tantra- Mantra for a long time.