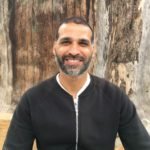 Aman
Aman Mandeep Walia, founder and lead teacher at Ek Omkar Yoga. His physical awareness started in his teenage years as he intensely practiced sports, martial arts and attended the gym. The physical level was there, but something was missing. So he went to work and live in the Osho commune in Pune at twenty years old and got introduced to Osho's meditations. It was a life changing time for him and was the first step into self-awareness. He then went to Dharamsala where he took hatha yoga classes, finding them a great addition to his physical and meditation activities and that it was the safest and smoothest way to practice both.
After several years of attending hatha yoga asana classes and doing personal practice, he felt it was time for him to deepen his knowledge and went to do his first 200-hour teacher training course at Bihar yoga ashram in North East India. Bihar school of yoga is a renowned traditional ashram where people come from all over to have an authentic understanding and teaching of what yoga is as a whole lifestyle. This is where Aman got to see and practice the yogic lifestyle on a daily basis (gurukul lifestyle) and realized it was the way for him to reach a higher level of spirituality.
After leaving the ashram, he continued applying this lifestyle and asana practice until he was ready for the next step in his yoga journey. His longing for more made him go to the Himalayas to complete a second 200-hour teacher training course at Sivananda Vedanta ashram . He started to teach drop-in classes and after a few years decided to create his own yoga school Ek Omkar Yoga to teach others how to spread yoga as far as possible.
He spent some time in Mysore to expand his practice and understanding of ashtanga vinyasa yoga.
Aman's view of yoga is more than just about the asana practice focusing mostly on the physical level, it is a complete way of living. Aman wishes to share the traditional Indian yoga culture and way of living. Pranayama and meditation are main focused to help calm the mind and body. He wants to open his students to a new dimension in their life, bringing awareness, respect, peace of mind and discipline in a joyful way. He is a friendly, warm-hearted and humble man, keen to share his experience with whoever is truly interested in yoga.
He has traveled to India and to Europe and likes to talk about his travel stories with his students who often become his friends.
---
Delphine
Delphine Martin-Michaud was born and raised in Paris. She went to London to study Interior design and started her own interiors studio in Paris where she was renovating apartments and houses for many years. Even though her life in Paris and her job were very fulfilling, she felt she wanted something more. She started to go to Hatha, Sivananda, Vinyasa and Power yoga classes on a regular basis and really enjoyed the combination of movement, breath, body and mind awareness. But the real love story with yoga started on a trip to India where she realized this was a new way of living for her. She decided she would go back to India a few months later to do a 200-hour multi-style yoga teacher training course in North Goa. She started to teach in Arambol beach just 2 weeks after and loved it. After a 90-hour TTC the next year in Kerala to learn Prenatal yoga, she went back to Paris to teach Power yoga and Prenatal yoga. Her desire to learn more brought her to India once again to do a 300-hour TTC in Dharamsala where she also had the chance to meet its Holiness Dalaï Lama. The TTC's focus were the 5 elements, bringing Ayurveda and traditional Chinese medicine together and the practice of Yin yoga. Inspired by this new knowledge and special encounter, she went to Goa, did a training in Yoga Nidra and started to teach in ttcs. Her specialties are Alignment-adjustment, Power yoga, Vinyasa, Yin yoga and Yoga Nidra.
Delphine has traveled the World, coming back to India many times as she always finds more to explore, learn and teach in the country of her heart and origin of Yoga. She now lives in India half of the year when she is not in Paris.
Delphine is a fun, dynamic, passionate and caring teacher, dedicated to making her students become conscious and inspiring yoga teachers. She has her own way of teaching with a friendly yet rigorous attitude, sharing her experience as a yoga teacher which makes her classes easy to understand.
---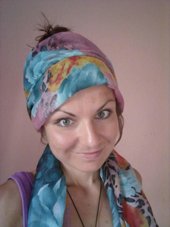 Patricia
Patricia`s Yoga journey started in early youth has grown out of deep interest in natural ways of healing. Being brought up close to nature and a harmonious life she was greatly supported and inspired by a family of naturopaths, healers as well as medical practitioners. Undertaken studies on eastern philosophy, psychology, and religions, Traditional Chinese medicine, Ayurveda, the practice of meditation and Chinese Martial Arts helped to deepen insight and brought clarity to the understanding body and mind relationship. Further practice of Yoga, Reiki, Shiatsu, Thai Massage along with accomplishing academic master degree in physiotherapy got her well established in a scientific approach to holistic treatments and develop her unique, alignment based teaching style balanced with a proper dose of deepest core touching guidance in meditation.
Travelled and worked in different countries across Europe and Asia she came to the roots of Yoga in India and became multi style Yoga Teacher.
Nowadays Patricia is bringing her knowledge and experience in Anatomy and physiology classes, meditation as well as Hatha, Vinyasa, Yin and Therapeutic Yoga Asana practice.
Her work is filled with faith, love, and enthusiasm with a reasonable balance between spiritual and scientific approach.
---
Shantam Baba
When you act without awareness; you are like a sleepwalker, who doesn't know where he is walking. You just act on the strongest impulse- your mind controls you. And when you act with awareness, you take control of your mind.
Shantam is a Yogi, meditation teacher and Yoga awareness consultant. He was born into a spiritual family. So his journey with Yoga and spirituality started from his home. Shantam has been OSHO's disciple. He lives in Goa teaching meditation and spiritual process.
He has experience with teaching various Meditation techniques of Vigyana Bhairava Tantra and countless techniques of cultivating awareness.
His main focus is to keep it simple, conscious while celebrating life in all the dimensions. Shantam has delivered his teaching of meditation and awareness techniques in Mexico, Sri Lanka, Thailand and many cities in India.
---
Swami Dhyan Ankur
Swami Dhyan Ankur has been a seeker of truth since 25 years. In his journey, he studied, experimented and meditated through various paths like Samkhya, Vedanta, Tantra, Zen, Taoism, Gurdjieff's fourth-way & Yoga. His exploration has also encompassed various western paths like Breath Therapies, NLP, Hypnosis etc.
Swami Dhyan Ankur gives discourses on Patanjali Yoga Sutras, Vedanta, Samkhya and Bhagavad Geeta, and also facilitates various active and passive meditations.