200 Hour Yoga Teacher Training in India | 200 Hour YTTC India
200 hour Yoga Teacher Training in India at Ek Omkar Yoga is the basic foundation course that one must complete to become eligible to teach yoga worldwide. Yoga Alliance USA, which is the largest association representing the yoga community accredit our TTC program. Our 200 Hour Yoga Teacher Training Course covers all major topics such as Hatha asana, Vinyasa yoga, Shaytkarma, Mantra Chanting, Pranayama and Meditation, Yoga philosophy, Yogic Anatomy, alignment and adjustments, teaching methodology or the art of teaching, practicum.
This Multi-style Hatha and Vinyasa Yoga style TTC is the very first level of the teacher training program. Whether you dream of becoming a Yoga teacher, just deepen your knowledge and practice, teacher part-time or own a Yoga studio, we offer high quality, fully comprehensive profoundly life transforming programs. Our 200 hour yoga teacher training course in India is for the beginners and practitioners of intermediate level. The classes are held from Monday to Saturday. Sunday is the rest day.
Ek Omkar Yoga carries out 200 hours Yoga TTC at two locations in India:
Ek Omkar Yoga School offers 200 hour Yoga Teacher Training in India at Goa and Rishikesh. These two beautiful locations are the primary choice of every Yoga practitioner. In Yoga center in Goa is located at Arambol beach.
The styles taught at Ek Omkar Yoga are very creative and dynamic which can be easily adapted to different levels and different tempos. After the course, you will head into the world with confidence. We understand that individual guidance and personal grooming are essential for better learning. That's why we take 12-15 students per batch. We offer a non-competitive environment to our students for their better individual growth.
Please check schedule and fees here: Schedule and Fees
Ek Omkar Yoga is not only on the path of yoga teacher training, but it is also making much efforts to spread accurate knowledge of Yoga worldwide. This course will build a firm foundation of personal disciplines.
Why 200 hour Yoga Teacher Training in India at Ek Omkar Yoga Center?
What makes 200 hour Yoga Teacher Training in India at Ek Omkar Yoga School exceptional is the level of experience and knowledge and talented teaching ability of founder, director, and teachers.
You will be given all the tools you need to become an excellent teacher.
We take limited students in one group usually less than 10 so that each and every student gets full attention from the teacher.
In this certification course, we will take care of your every need.
Yoga originated in India, with Rishikesh being the Yoga capital of the world. So it would be best if you can learn Yoga from the place of its origin.
Beyond the physical aspects of Yoga, you will truly learn and live the philosophy, mentality, and spirituality underlying Yoga.
Moreover, yoga teacher training courses and retreats are very economical in India. You will save a lot.
You will leave the TTC inspired, confident and fully equipped to teach great yoga classes.
Yoga is an Integral part of India. In recent years, Yoga has also become popular in the west. So people are being inspired to come and study Yoga in India.
We have selected two beautiful locations for yoga teacher training course of 200 hours and yoga retreat course in India, one is Rishikesh (the Land of Yogis), and the other one is the beautiful Arambol beach in North Goa.
200 hour Yoga Teacher Training in India syllabus
During the 200 Hour Yoga Teacher Training you will cover:
Shatkarma- During Sharkaram class the students will be taught the yogic cleansing techniques or Kriyas like Jal neti, Nauli, Kunjal Kriya, Kapalbhati, Agnisar Kriya.
Asana Class- Asana means Postures. During the Asana class, the students will learn about different postures of Hatha Yoga like forward bend, back bends, sitting postures, etc. They will also learn the uses of Yoga props. The goal of Asana classes is to come away with a full, theoretical and practical knowledge of Asana.
Philosophy- The purpose of this Philosophy class is to deepen and broaden the knowledge of Yoga and to assist Yoga your personal spiritual practice and inner growth at the same time. Classes will cover the Yoga Sutras of Patanjali. The aim of this module is to gather a comprehensive idea and understanding of Yogic philosophy and lifestyle.
Anatomy: This section will cover a complete study of human anatomy, functions in regards to Yogic principles. It will cover a brief detail about the organ system of the human body will be. As a result, the students will be able to apply this knowledge as a part of their teachings.
Meditation and Pranayama- This module will teach various meditation, and pranayama techniques and how to implement them in different situations. Students will learn about the theory and philosophy behind them.
Teaching Methodology/Art of Teaching- In these classes, the students will learn how to teach effectively. They will be given different tips about the art of teaching. The objective of these classes is to teach students how to observe bodies, give variations according to body types and capabilities of the individuals.
Practicum- In this sections, the students will learn by watching others teaching. And the lead instructor will observe and give feedback regarding the teaching students.
Yoga Teacher Ethics/Philosophy and Lifestyle ethics-
This module will cover various topics
Teacher-student relationship
How to present yourself
Yoga posture adjustments
Principles of Yoga teacher
200 hour Yoga Teacher Training in India 2018-2019- Daily schedule:
| From | To | Program |
| --- | --- | --- |
| 7:00 AM | 8:00 AM | Pranayam/Kriyas |
| 8:00 AM | 9:30 AM | Hatha Yoga OR Vinyasa Yoga |
| 9:30 AM | 10:30 AM | Breakfast |
| 10:30 AM | 12:00 PM | Anatomy/Philosophy |
| 12:15 PM | 1:00 PM | Mantra Chanting/Karma Yoga |
| 1:00 PM | 3:00 PM | Lunch |
| 3:00 PM | 4:30 PM | Alignment/Adjustment/Art of teaching |
| 4:45 PM | 6:00 PM | Hatha Yoga OR Vinyasa Yoga |
| 6:00 PM | 7:00 PM | Meditation OR Yog Nidra |
| 7:30 PM | | Dinner |

This schedule may subject to change(s)
Beneficial for
200 hour yoga teacher training in India is beneficial for
Those who want to become a Yoga instructor
Advanced Yoga practitioners
Existing Yoga teachers
Beginners looking for a proper foundation and awareness of Yoga and meditation
Course Fees
The course fee for Goa is EUR 1399 and for Rishikesh EUR 1199. An amount of EUR 351 is required to reserve your seat for 200 hour yoga teacher training course. Rest of the fees can be paid on arrival at Ek Omkar Yoga Center.
Students must confirm the final TTC price offered to them before booking.
Please note: for a private room we charge EUR 200 extra.
Check Schedule & Fees
What will you learn/get?
Intensive 200 hour yoga teacher training
How to give a clear demonstration and instructions
Proper alignment and adjustment of postures
Body Anatomy
How to perform Yoga postures free from injury and pain
How to use props for better postures
Mantra Chanting
Pranayama (Yogic breathing) and their benefits
Yogic body cleansing (Kriya yoga)
Understanding of Yoga philosophy
Relaxation techniques(Yog Nidra)
A true yogic lifestyle experience
Training of Hatha Yoga asanas and unique correction techniques
Guidance by highly experienced teachers
Ability to share knowledge of Yoga with people of different backgrounds and body types
Internationally recognized certificate upon completion of the yoga teacher training course
Yoga Alliance Certified 200 hour Yoga Teacher Training Certification in India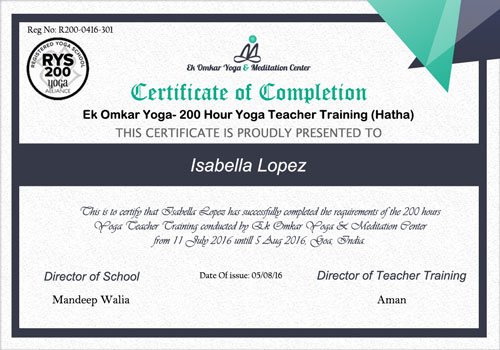 Ek Omkar Yoga School sample certificate
This four weeks 200 hour yoga teacher training program will help you develop a deep understanding of yoga to such an extent that you will be able to share and teach yoga professionally. The certificate is recognized worldwide, and you will be able to teach anywhere.
If you are dedicated towards yoga and want to do continuous intensive training, the 200 hour yoga teacher training in India at Ek Omkar Yoga is perfect for you. With immense knowledge and practical training, you will explore the different aspects of yoga. This program is multi-styled, and we focus on Hatha as well as Vinyasa yoga. Since we are accredited by the Yoga Alliance USA, you can become a part-time yoga teacher post the completion of the 200-hour YTT through us. Join 200 hour Yoga Teacher Training in India and increase your expertise in the field of yoga to help spread the joy of it and bring peace!