200 Hour Yoga Teacher Training In Goa
Goa is one of the most fascinating spots for Yoga practitioners and artists who want to endure the beauty of nature and experience the beach life. Beautiful Goan nature, the shadow of palm trees around, tasty food and the Arabian Sea with friendly dolphins let people across the world spend here memorable dream-holidays and meet Indian culture in a secure and very comfortable way. Ek Omkar Yoga school organize 200 hr Yoga teacher training in Goa India. Our school is accredited by Yoga Alliance US. The 200 Hour yoga teacher training in Goa is the first level towards becoming a certified Yoga instructor.
Yoga is the timeless wisdom. It is a transformational discipline that promotes the union of mind, body, and spirit. It helps us to tune in to our body's obligations, rewarding us with a whole host of health benefits both at mental and physical levels. Here at Ek Omkar Yoga Center, we believe Yoga is a lifestyle and everyone should adopt it– we look forward to welcoming you to our growing community of Ek Omkar Yogis and Yoginis
Our 200 hour Yoga teacher training in Goa program gives insight into deeper levels of Yoga. Those who are interested in learning multi-style Yoga (Hatha, Vinyasa, Sivananda, the physical postures, and movements) and Pranayama (breath training techniques), with a good introduction to Yoga Philosophy and Anatomy can join this course.
This training is not only about grabbing all the details of the Yoga Practice but actually being able to convey it to others while having adequate expertise to guide them on the physical and mental level.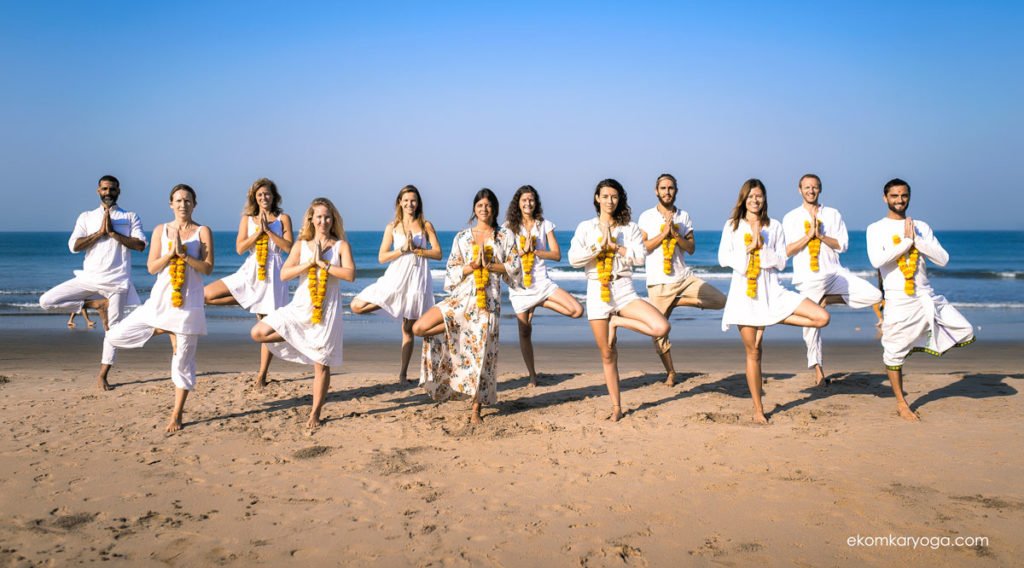 200 hour Yoga Teacher Training In Goa 2018-2019
| Session | Location | Shared Room | Private Room | Booking |
| --- | --- | --- | --- | --- |
| 1 Dec to 26 Dec 2018 | Goa | EUR 1399 | EUR 1599 | Completed |
| 6 Jan to 31 Jan 2019 | Goa | EUR 1399 | EUR 1599 | Completed |
| 4 Feb to 1 March 2019 | Goa | EUR 1199 | EUR 1399 | Running |
| 6 March to 31 March 2019 | Goa | EUR 1199 | EUR 1399 | Enroll Now |
| 1 Oct to 26 to Oct 2019 | Goa | EUR 1199 | EUR 1399 | Enroll Now |
| 3 Nov to 28 Nov 2019 | Goa | EUR 1199 | EUR 1399 | Enroll Now |
| 1 Dec to 26 Dec 2019 | Goa | EUR 1199 | EUR 1399 | Enroll Now |
| 6 Jan to 31 Jan 2020 | Goa | EUR 1199 | EUR 1399 | Enroll Now |
| 3 Feb to 28 Feb 2020 | Goa | EUR 1199 | EUR 1399 | Enroll Now |
| 4 March to 29 March 2020 | Goa | EUR 1199 | EUR 1399 | Enroll Now |
Course Curriculum for 200 Hour Yoga Teacher Training in Goa
We strictly follow the syllabus and guidelines set by Yoga Alliance USA for 200 hours yoga teacher training in Goa. The classes are conducted from Mon till Sat and Sunday is the rest day. The course is divided into 4 modules of 4 weeks(26 days). The approach of study is from beginners to advanced level. Starting with the foundational practices, the course will cover the advanced levels towards the last modules. Students will be given exposure to the yogic discipline.
1. Meditation and Pranayama-
Meditation is an approach to training the mind, similar to the way that fitness is an approach to training the body. This module will teach various meditation, and pranayama techniques and how to implement them in different situations. Students will learn about the theory and philosophy behind them. The benefits of meditation are the following.
A calm mind, Good concentration
Better clarity, Improved communication
Relaxation and rejuvenation of the mind and body
2. Shatkarma-
During Sharkaram class the students will be taught the yogic cleansing techniques like
Jal neti
Nauli
Kunjal Kriya
Kapalbhati
Agnisar Kriya.
3. Asana Class-
Asana means Postures. During the Asana class, the students will learn about different postures of Hatha Yoga like forward bend, back bends, sitting postures, etc. They will also learn the uses of Yoga props. The goal of Asana classes is to come away with full, theoretical and practical knowledge of Asana. It is essential to perform asanas with correct alignment for an injury-free practice. Our teachers focus on every individual for their accurate practice.
4. Philosophy-
The purpose of this Philosophy class is to deepen and broaden the knowledge of Yoga and to assist Yoga your personal spiritual practice and inner growth at the same time. Classes will cover the Yoga Sutras of Patanjali. The aim of this module is to gather a comprehensive idea and understanding of Yogic philosophy and lifestyle.
5. Anatomy:
This section will cover a complete study of human anatomy, functions in regards to Yogic principles. It will cover a brief detail about the organ system of the human body will be. Anatomy helps in understanding the exact posture of body and alignment of the body. It helps us in understanding the movement of different muscles and body parts while performing asanas and gives a clear picture of breath movement in each and every movement of asana. As a result, the students will be able to apply this knowledge as a part of their teachings.
6. Teaching Methodology/Art of Teaching-
In these classes, the students will learn how to teach effectively. They will be given different tips about the art of teaching. The objective of these classes is to teach students how to observe bodies, give variations according to body types and capabilities of the individuals.
7. Practicum-
The most important element in implementing knowledge for any school of thought is the experience. In this section, the students will learn by watching others teaching. And the lead instructor will observe and give feedback regarding the teaching students. This module is intended to preparing newly certified instructors with the skills to teach and establish a strong foundation to begin the path of a transformation from practitioner to teacher.
8. Yoga Teacher Ethics/Philosophy and Lifestyle ethics-
This module of 200 Hour yoga teacher training in Goa course will cover the following topics which are extremely helpful for the trainees.
Teacher-student relationship
How to present yourself
Yoga posture adjustments
Principles of Yoga teacher
Course Fee for 200 hour Yoga Teacher Training In Goa
The course fee is EUR 1599 with private accommodation and EUR 1399 with twin sharing accommodation. You can choose as per your convenience. An amount of EUR 351 is required to reserve your seat. The remaining fee can be paid on arrival at Ek Omkar Yoga Center. Students must confirm the final 200 hour TTC price offered to them before booking. To book your spot now please visit Book Yoga TTC in Goa
What is Included in Course Fees of 200 hrs Yoga TTC
25 Days Accommodation(Private/Shared)
TTC Manual
One T-shirt
Attached bathrooms
Pure vegetarian meals 3 times a day except for Sundays
Yoga mat for practice
Yoga Alliance Certification
Wi-Fi
Airport/Train Station pickup to our Yoga center
Yoga Styles covered in 200 hr yoga teacher training Goa course
Ek Omkar Yoga offers 200 hours yoga ttc in Goa programs including Hatha Yoga, Vinyasa Yoga, Sivananda Yoga styles. This is a multi-style yoga teacher training course. It will cover Asana practice, Meditation and Pranayama, Breathing and cleansing techniques, relaxation techniques, Yoga Philosophy and Anatomy, Yoga teacher's ethics and lifestyle, Relationship of a teacher and student etc.
Hatha Yoga
Hatha yoga is the most ancient and traditional form of yoga. It is one of the best yoga practice for those who are very much connected to the body. The word Hatha means 'Forceful' in Sanskrit. This type of practice means tenacity to reshape the body, in a way; to re-engineer the whole system. It focuses on physical practice and how this can help you achieve inner balance. As per Hindu belief deity, Shiva is the founder of Hatha Yoga.
The more esoteric meaning of Sun (Ha) and Moon (Tha) was a later addition when elements of subtle body psychology gained prominence. According to this view, Hatha is the union of two opposites. One practice Yoga to unite mind and body, flexibility and strength, movement of bodies and stillness of mind. As per Hindu belief deity, Shiva is the founder of Hatha Yoga.
Practice more and more asanas in Hatha Yoga purifying your body and open all the Nadis to flow the energy throughout the body to awakening your vital energy. Our Hatha Yoga Teacher Training Course is perfect for the beginners too.
Vinyasa Yoga
Vinyasa yoga is one of the most famous yoga styles. The word "vinyasa" can be translated as "arranging something in a special way," as yoga poses for example. In vinyasa yoga classes, students coordinate movement with breath to flow from one pose to the next.
Syllabus to follow for 200 hour Yoga teacher training in Goa
We follow a strict syllabus decided by the Yoga Alliance. The training modules cover the theoretical and practical elements of Yoga training. Aspirants will be taught the basics in a way that they are also well equipped to train others.
Technique: Students are trained to practice mantras, kriyas, pranayama, and meditation.
Inner Understanding: Students get to sharpen their understanding of the broad set of the physiological process (alignments and adjustments) involved in Asanas (Yoga Postures).
Teaching: The ethics and lifestyle of a Yoga teacher and the qualities of a proper trainer.
The 200 hr yoga teacher training Goa Program includes:
The Ek Omkar Yoga Teacher Training Certification is an association of the practice & philosophy of traditional Yoga without changing its actual meaning. The Ek Omkar Yoga Teacher Training concentrates on Self- Recognition– the awakening to your highest inner potential. While taking this course with us you will gain practical and theoretical knowledge about Yoga Philosophy and Anatomy too. This will help you understand your body from the aspects of Yoga(which is essential when ) and you will able to develop your own practice.
Training and Practice of Asanas, Pranayama and Meditation Techniques
Study of Human Anatomy and Physiology
Yoga Philosophy
Yoga Ethics including the moral aspects and responsibilities of being a Yoga Teacher
Self Practice and Exploration of Yoga, Meditation
Yoga Teacher Training Goa Reviews
This 200 Hour Yoga Teacher Training in Goa Program will provide you with the confidence and the expertise to help you start sharing your love of yoga with others. Our highly experienced and supportive instructors will help you find your voice as you deepen your practice and expand your knowledge of yoga. Our MultiStyle Yoga Teacher Training Course delivers a comprehensive, theoretical and practical training program. We have been rated Best RYT 200 hr yoga teacher training Goa which is evident from the reviews we received from our students.

I did my 200 hours Teacher-Training-Course at Ek Omkar Yoga Center in December 2016 and would really love to recommend this school to any person interested in learning more about his body, breath and mind!

What I liked most:

1. Small efficient group-sizes: Less than 10 students – that´s awesome! And hard to find anywhere else.

2. Teaching is based on friendship and trust.

3. Excellent, helpful, knowledgable and patient teachers with years of teaching experience!

4. Yoga Alliance certificated.

5. Based on Hata Yoga you will also get a deep understanding for Sivananda- and Ashtanga Yoga.

6. Perfect guideline: the course includes Yoga postures, breathing techniques, meditation, philosophy and anatomy. The first 2 weeks you work on improving yourself, the last 2 weeks you focus on teaching techniques and -practice.

7. The place is safe and quiet, 1min to the beach. Very clean and nice accommodation in huts.

8. Food is cooked fresh 3 times a day and is really- I mean really awesome!

9. Teachers are there after classes as well – it is a very home-feeling atmosphere.
– Andrea Bichler

Feeling blessed to have done my yoga teacher training with these guys.
The team is so friendly, but really professional about what they are doing, they taught me a lot, about the asanas practice of course, but also on the spiritual level, and every fields of yoga, from the kriyas (be prepared, it isn't a nice and cocooning time haha, but efficient !) to the mantras chanting, which I never thought I could actually enjoy as much as asanas ! I thought I was going for a month of asanas practice, but afterwards I feel like I have been given a new way of life, and the tools and tricks to follow it.
If you are only interested about asanas practice, you'll be happy as well, as you'll train a lot and get your body ready to perform more asanas. You'll get better and better in your practice for sure. Also you'll be teached how to adjust yourself and others, and you'll get more understanding about asanas, their purpose, how to get in and out, how to build a sequence, how to use the props, how to avoid injuries, how to teach and much more. It was really complete.
The teachers are good and have a lot to share, with patience, and dedication,

We also had an introduction to restorative yoga and yoga nidra, and a deep introduction on Yin Yoga, which I liked a lot and so know now that I want to learn more about.
The food is good and healthy, and there was a lot (yes it's important, yes I love food).
The accommodation was for me perfect, nice huts on the beach, facing the stunning sunsets.. Of course it's still India, so don't get frustraded if there is no power or no water for a while, it will come, at some point haha. You'll also learn patience, and easiness, this is also yoga 😋
So yeah, this last month was over all my expectations, and I thank Ek Omkar for that. 👍🙏
Yoga Center near Arambol Beach
Our Yoga Center in Goa is located right at Arambol beach. This is the most fascinating beach in North Goa, India. It is very popular for yoga teacher training courses and yoga retreats in Goa. It is the beach of choice for many long-staying travelers in the north Goa, India. Our beautiful Yogashala here will give you an unforgettable experience.
We also offer yoga teacher training in Rishikesh.
Reach Ek Omkar Yoga in Goa
By Air:
Goa is an international destination. You can reach Goa from anywhere in the world. The Dabolim Airport which is Goa's main airport lies just 29 kilometers from Goa's capital, Panjim. It is well connected by daily flights from Chennai, Mumbai, New Delhi, Hyderabad, Cochin, and Bangalore. We organize taxi service from Dabolim Airport.
Registered Yoga Teacher(RYT 200)
Teachers can register as an RYT® 200 after they have successfully completed a 200 hour yoga teacher training in Goa program at Ek Omkar Yoga School. This will give them worldwide recognition. We at Ek Omkar Yoga welcome you to be a part of this journey of exploring your inner potential and sharing the knowledge with others.